Last week I wrote to Dr. Ian Buntain, who is the Director of the World Missions Center, at Southwestern Seminary to ask about a Martyr's Walk a friend had told about. He confirmed that there was a dedicated walkway with plaques commemorating Christian witnesses who were killed serving the Lord. I hadn't realized this before and was glad to hear that my next door neighbor, Archie Dunaway, who had been killed during the Rhodesian civil war, was honored in the Martyr's Walk. He not only sent me the list of the twenty five martyrs but also went outside and took a photo of Archie Dunaway's plaque which I really appreciated and wanted to share with you. If you are ever in the Ft. Worth area you should consider stopping by Southwestern Seminary and going through this walk.
"Martyrs": The word was originally translated from Greek as "witnesses," but it came to refer to people who died because of their testimony. Below is a list of Baptist martyrs who should be remembered for giving their lives in the service of Jesus Christ. The Martyrs' Walk is dedicated in honor of Myrna and John Hendrick and the Hendrick family.
Dunaway, Archie (1920-1978): Archie was killed by guerrilla soldiers while serving as an FMB (now IMB) missionary in Rhodesia (now Zimbabwe) at the Sanyati Baptist Hospital Compound. He and his wife Margaret served as missionaries to Nigeria and Rhodesia for 31 years. Previously, he pastored churches in Indiana and Tennessee.
Elliott, Larry Thomas (1943-2004), and Donna Jean Elliott (1945-2004): They were killed in a truck by gunmen in Mosul, Iraq. Larry and Jean served as IMB missionaries for almost 26 years in Honduras and for a short time in Iraq. In Iraq, they were looking for a location to provide clean drinking water. In Honduras, they planted 12 churches.
Gariety, Kathleen (1949-2002): Kathy was killed by a gunman at the Jibla Baptist Hospital compound in Yemen where she served as the purchasing manager for ten years. She also taught Yemeni children. Before becoming an IMB missionary, Kathy worked with youth at Layton Avenue Baptist Church in Greenfield, Wisconsin.
Gilbert, Mary Anna (1967-1990): Mary Anna died in the crash of a hijacked jetliner in Guangzhou, China. She had taught English for one month at Jia Ying University in Meixian, China. She had planned to teach there for two years as a Cooperative Services International worker (FMB).
Gray, Rufus F. (1915-1942): Rufus, an FMB missionary to China, died as a Japanese prisoner of war in Baguio, Philippines. Rufus and his wife Marian began their language studies in Peking, but they moved to Baguio to continue their studies when conditions worsened. Rufus was taken by the Japanese to be questioned and was not returned.
Harvey, Cheryll Gaye (1957-2012): Cheryll was killed during a robbery attempt in her apartment in Irbid, Jordan. She graduated from Southwestern in 1984 with a Master of Arts in Christian Education. Cheryll served in Jordan for 24 years as an IMB missionary. As part of her work in Jordan, she taught English and other subjects.
Holmes, J. Landrum (1836-1861): Landrum was killed by men as he attempted to dissuade them from attacking a Chinese community. He and J. B. Hartwell started the Shantung mission. Landrum and his wife Sallie were two of the early FMB missionaries to China and lived in Shanghai before moving to the Shantung (Shandong) province.
Hood, Charles W., Jr. (1954-1998): Charley was killed by a gunman in Bogota, Colombia, where he worked in general evangelism and theological education. He and his wife Becky were appointed by the IMB in 1987. Previously, he served on church staffs in Missouri at Lee's Summit First Baptist and Raytown Spring Valley Baptist.
Hopewell, Gladys (1915-1973): Gladys was killed in her apartment in Taiwan. She directed a student center at Cheng-Kung University. She had also worked in mainland China and Thailand. Before her appointment as an FMB missionary in 1946, she served on Alabama church staffs at Talladega First Baptist and Birmingham South Avondale Baptist.
Hyde, William "Bill" P. (1944-2003): Bill was mortally injured by a bomb while meeting a family at the airport in Davao City, Philippines. He was a graduate of Southwestern and served as a church planter and mentor for Filipino men. Bill and his wife Lyn were appointed by the FMB in 1978. He was a veteran of the Vietnam War.
Koehn, William "Bill" (1942-2002): Bill was killed by a gunman at the Jibla Baptist Hospital compound in Yemen where he worked as the hospital administrator. He and his wife Marty served as IMB missionaries in Yemen for almost three decades. In his woodworking shop, he made toys for children, which gave him access to orphanages.
McDonnall, David E. (1975-2004): Dave was mortally wounded in a truck by gunmen in Mosul, Iraq. He was a Southwestern graduate, and he and his wife Carrie briefly served as IMB missionaries to Iraq. Previously, Dave looked for gospel openings and learned to speak Arabic as an IMB journeyman in the North Africa/Middle East region.
Mizell, Cydney "Cyd" (1958-2008): Cyd was kidnapped by gunmen in Kandahar, Afghanistan, and is presumed to have been killed by them. She taught English at Kandahar University and participated in various aid projects. Cyd, a Southwestern graduate and fluent Pashtu speaker, also taught women skills that would generate income.
Myers, Martha (1945-2002): Martha, a physician at the Jibla Baptist Hospital in Yemen, was killed by a gunman after 24 years of FMB/IMB service at the hospital. She started a mobile clinic and traveled to villages to treat patients. Martha was kidnapped in 1996, but she continued her work in Yemen courageously after her brief captivity.
Pate, Mavis O. (1925-1972): Mavis, a nurse, was mortally wounded by gunmen while traveling from Tel Aviv to Gaza. She studied at Southwestern before her appointment as an FMB missionary in 1964. Before her transfer to a hospital in Gaza in 1970, Mavis served in Bangladesh and Thailand. She served on the hospital ship, the SS Hope, from 1960-61.
Philpot, James (1939-1985): James was killed by a gunman in Mexico City following a traffic accident. He and his wife Jurhee were appointed by the FMB in 1967. James became the mission administrator for the FMB missionaries in Mexico in 1974. At the time of his death, he led over 100 FMB missionaries and their families.
Potter, Paul Edwin (1932-1971), and Nancy Potter (1935-1971): Paul and Nancy were killed during an invasion of their home in the Dominican Republic, where they had been serving as FMB missionaries since 1966. They started evangelistic and medical work in Santiago, and God worked through them to form two churches and a medical clinic.
Senter, Elizabeth "Libby" (mother, 1939-1986), and Rachel Janet Senter (daughter, 1976-1986): Libby and Rachel were killed in their home in Liberia. Libby and her husband George came to Liberia in 1980. She was a church and home worker who assisted her husband in his FMB work. They had served as home missionaries in Indiana (1971-80).
Smith, Ronald "Ronnie" Thomas, II (1980-2013): Ronnie was killed by gunmen while jogging in Benghazi, Libya. He taught chemistry at the International School Benghazi (ISB). Ronnie and his wife Anita lived in Libya for about 18 months. He previously served on the staff of the Austin Stone Community Church, an SBC church in Austin, Texas.
Wallace, William "Bill" L. (1908-1951): Bill was killed in a communist prison in China. He was appointed by the FMB in 1935 and served as a surgeon at the Stout Memorial Baptist Hospital in Wuchow (Wuzhou). Bill faced obstacles such as Japanese bombing raids during World War II and his own serious case of typhoid fever, but he persisted in his ministry.
Watson, Karen (1965-2004): Karen was killed in a truck by gunmen in Mosul, Iraq. As an IMB International Service Corps missionary, she went to Iraq following the fall of the Iraqi regime in 2003 and coordinated Southern Baptist efforts there, including a ministry that helped Iraqi women develop job skills.
Westrup, John O. (1840-1880): John was killed while traveling in Mexico. Thanks to the support of Texas Baptists, he helped start Baptist work in Mexico before he became an FMB missionary there. John had been reared in Mexico and was fluent in Spanish. He helped start three churches in the Mexican state of Coahuila.
Yi, Chu Hon (1935-1995), and Kei Wol Yi (1936-1995): Chu Hon and Kei Wol were killed in their apartment in Asia. Chu Hon, a cardiologist, and Kei Wol, a registered nurse, were founding members of the Tidewater Korean Baptist Church in Virginia Beach, Virginia. They were used by God for both physical and spiritual healing.
"Unknown" Martyr: Tertullian said, "The blood of the martyrs is the seed of the church." The sacrifice of martyrs should inspire Christians to fully obey the Great Commission that commands them to go and make disciples of all nations. The Lord knows of martyrs that are unknown to the world, and they will be rewarded by Him.
(Research by Robin Brooks and Mike Morris)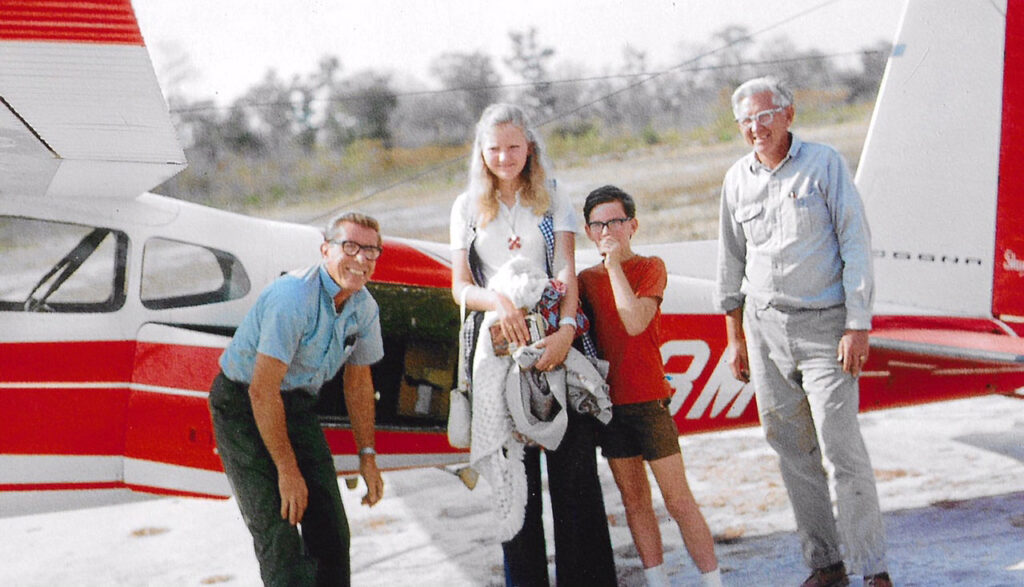 I wanted to point out that in this photo of Archie Dunaway seeing Martha Dunaway and myself off to boarding school on the Sanyati airstrip, is the Missionary Aviation Fellowship pilot Dave Steiger. I just heard yesterday that he died on 1/9/22 almost one hundred years old. He was a decorated WWII pilot and served many years with MAF in Papau New Guinea flying missionaries in and out of remote regions. I remember his story of looking for the Rockefeller son who disappeared while flying in that region. Uncle Dave was first based out of the Sessami mission station and I remember visiting him and eating such unusual meat as he was a hunter and treated us to fried wart hog ribs, impala and kudu. He flew the doctors and nurses to the nine satellite clinics of Sanyati Hospital and we could always tell when he had a sick patient on board as he would rev up his engine twice over our house. Sometimes he had to buzz the airstrip a couple of times to get the donkeys and goats off. He flew the missionary kids to school and entertained us with stories and his flying. He and his wife were faithful missionaries with many years of service.